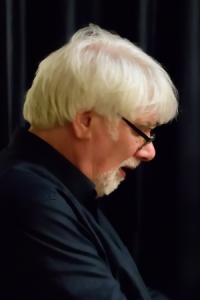 Prior to joining the band in 1995, Roger had been the regular pianist with local bands such as The Dallas Jazzband, The Smoky City Jazzmen, The Red River Jazzmen and, with Mart, in The Deep Sea Jazzband. He is proud to have accompanied American jazz giants, "Wild Bill" Davison, Kenny Davern, Ray Nance, Marshall Royal, and Bud Freeman, together with British stars such as Danny Moss, Dave Shepherd, George Chisholm, Humph and Sandy Brown.
Roger's musical interests stretch beyond Jazz. His love for Musical Theatre and Grand Opera have seen him on stage, for over 40 years in many different acting roles and directorial appointments including singing a principal bass role in Wagner's "Tannhauser" for Manchester Opera Group.
Roger's eclectic influences add to the rhythm section's depth of sound and contribute to the band's wide variety of styles.